Virtual Testers
The test site you are viewing is an "at home" test administration that is proctored via ZOOM meeting. In order to successfully take this type of administration, you must meet specific technical requirements that are detailed in the documents available here. You must be able to meet the technical requirements and perform the steps indicated days prior to actually taking the exam. Please note that this examination may only be taken on a laptop or desktop with a WINDOWS or MACINTOSH operating system. It will not work on a Chromebook, Linux or other operating systems.
Illinois Nursing Assistant/Aide Competency Evaluation – Written Instructions
Only WINDOWS or MACINTOSH operating systems are supported.
This exam cannot be taken on a CHROMEBOOK or Linux Operating System.
✓CHECKLIST of Items you MUST HAVE in order to take a virtual proctored exam at home:
✓ Cell phone or other digital device w/ ZOOM meeting app installed (must be fully charged or plugged in for the duration of the exam. If your phone stops working, your exam will be locked)
✓ Laptop or Desktop Computer with fast and reliable internet service. Slow web connectivity may interrupt your testing administration. If it cannot be resolved, you will need to reschedule for an alternate administration at a testing center.
✓ Be aware that there may be charges from your cell phone carrier if you do not have unlimited data service.
✓ Login ID
✓ Password
✓ Scratch paper
✓ Photo ID (driver's license, state ID)
✓ Writing utensil
The Illinois Nurse Assistant/Aide Testing Project reserves the right to stop your test administration in the event that you are not able to meet the technological requirements to complete the test or if inappropriate testing behaviors are observed. If you have technical issues that cannot be overcome, you will be provided with a voucher number to reschedule an alternate test at a testing center at no additional cost.
---
INACE Lockdown Browser
In preparation for online testing at home, you must:
Install the INACE Lockdown Browser for the Illinois Nurse Aide Certification Exam (INACE). Go to the appropriate link to download and install the INACE Lockdown™ browser on the laptop or desktop computer to be used for your INACE test:
Windows: nurseaidetesting.com/lockdown/LDB-Windows.exe
Apple: nurseaidetesting.com/lockdown/LDB-Mac.zip

Operating System Requirements:
To install and run the INACE Lockdown Browser you will need to have:
Windows 10 or 11
Mac macOS X 10.13 or higher
*IMPORTANT NOTICE*
If you are using the Chrome browser and experience difficulties in downloading the INACE Lockdown Browser installation file, please switch to a different browser. Other browsers could include Firefox, Edge, and Safari.
Once downloaded, you will need to install the Lockdown Browser on your computer. To do this, you will need to double click the downloaded file.
Microsoft Store
Some Windows computers are set up to only allow applications to be downloaded and installed from the Microsoft Store. This restriction is a level of security meant to allow only Microsoft approved software to be downloaded and installed. the INACE Lockdown Browser is a special version of the Respondus Lockdown Browser and is unavailable on the Microsoft Store. If you receive a message stating your are unable to download and install the application due to Microsoft Store restrictions you can temporarily change you computer settings and allow using the instructions found on the Microsoft page linked below. Be sure to return your settings to their original states so that your computer is as secure as it can be.
Install Applications Not Microsoft Store
S-Mode
If you are able to successfully download and install the INACE Lockdown Browser, S-Mode is NOT an issue for you and you do not need to concern yourself with the following.
S-Mode does not apply to Mac users.
IMPORTANT: Switching out of S-Mode is permanent.
For more information about S-Mode please visit the Microsoft S-Mode FAQ page
S-Mode is a Microsoft Windows feature that is designed to protect computer users from malicious software. S-Mode forces users to use the Microsoft Store to download and install software applications. The INACE Lockdown Browser is not available on the Microsoft Store and must be downloaded and installed by the individual computer use. Microsoft offers instructions covering how to switch out of S-Mode. Those instructions can be found at this link https://support.microsoft.com/en-us/help/4456067/windows-10-switch-out-of-s-mode
More information on S-Mode can be found here:
https://support.microsoft.com/en-us/help/4020089/windows-10-in-s-mode-faq
If you have problem with the installation, please contact our technical support.
Screencastify
Screencastify is a Google Chrome extension that allows the broadcast and recording of one's activities on their computer. Because of the potential for exam recording and broadcasting, lockdown browsers identify this application as a source for potential cheating. The INACE Lockdown Browser, which is a specially coded version of Respondus, also identifies this as a potential source of cheating.
If you have Screencastify on your computer or have accessed your Google account ( including Gmail ) on another computer that has Screencastify installed, this can cause a problem when attempting to open your exam. For instructions on the removal process, please see the information provided by Respondus here: https://support.respondus.com/hc/en-us/articles/4409604331931-Screencastify-error
Unfortunately, due to the nature of Screencastify and Google account interaction, we are unable to assist with the removal of this application.
PLEASE: DOWNLOAD AND INSTALL THE INACE LOCKDOWN BROWSER ACCORDING TO THE INSTRUCTIONS AND GO THROUGH THE LAUNCH BROWSER PROCEDURE WELL BEFORE YOUR TEST TIME. IF YOU HAVE TROUBLE WITH THE INSTALLATION, CONTACT robertmarlow@siu.edu. DO NOT WAIT UNTIL TEST DAY TO SEEK OUT ASSISTANCE. IF YOU ARE NOT PREPARED TO TEST, YOU WILL NOT BE ADMITTED TO THE VIRTUAL ADMINISTRATION.
---
LOCKDOWN BROWSER OPENING AND LOGIN PROCEDURE
You MUST use the link provided on the INACE Homepage to open the the INACE Lockdown Browser.
Access your regular browser (Chrome, Firefox, Edge, Safari, etc.) and go to our website at https://inace.nurseaidetesting.com/inace/.
You must be signed out of your INACE account to launch the Lockdown Browser. To sign out click the sign-out link near the upper-right of the page. The Sign Out link can be found in a yellow circle on the image below.


Once signed out of your account you should find the Launch Lockdown Browser link at the bottom right of the page. The Launch Lockdown Browser link can be found circled in yellow in the image below.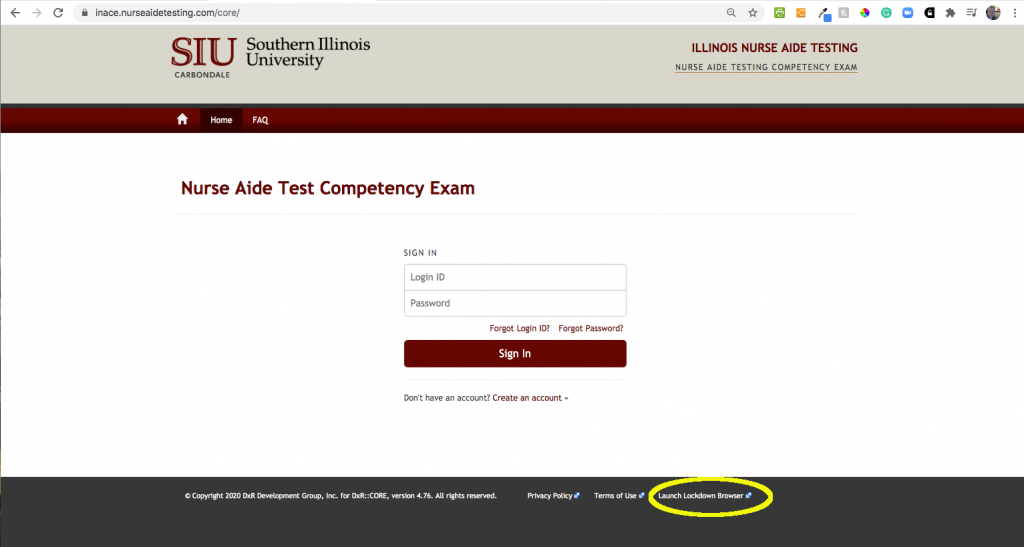 You will know it has opened correctly if after clicking, it opens to a browser that displays the letters DxR in the upper left hand corner (browser tab) of the screen.
Log in to the system using your username and password.
---
INACE Zoom Meeting Join Instructions
CLICK HERE to view instructions detailing how to join the INACE Home-Based Exam Zoom Meeting
Staff members will be in the zoom meeting approximately 30 minutes prior to testing in the event you need assistance.
---